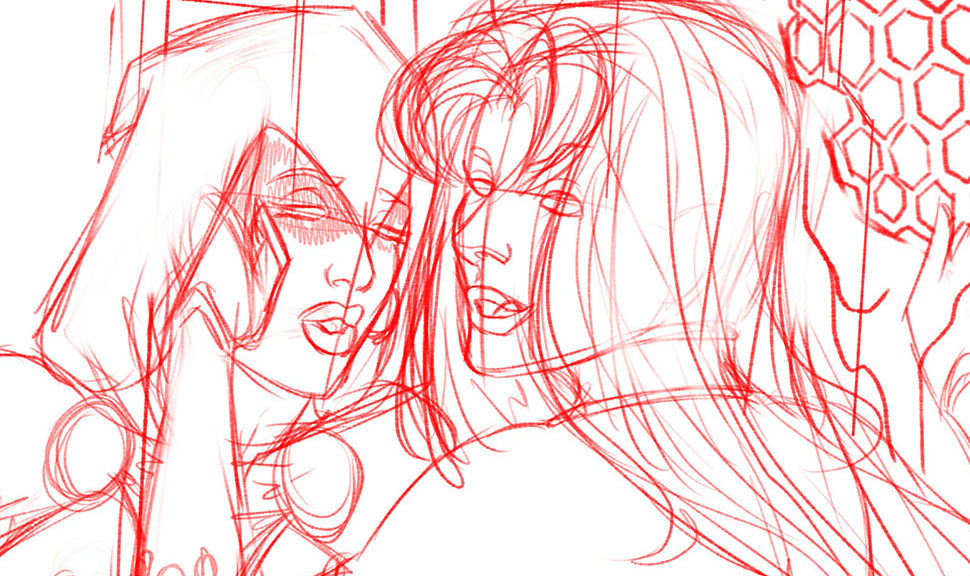 Queen Bee's newest drones – Bonus Sketch
The poll to decide my newest portrait of corruption is almost over and it looks like not even a miracle can change the outcome. Tomorrow the official announcement will be made, meanwhile, I wanna share with you another sketch u did during the poll unfortunately i didn't had it planned so who knows if it could have changed the results, because as you can see, the piece has two fan favorites. Raven and Starfire, so this is a small tease, but you all will have to wait a little bit more to see it finished.
Which one was your favourite Portrait of Corruption from 2019?
The Garden of souls

8%, 28

votes

28 votes - 8% of all votes

27 votes - 8% of all votes

Contamination II

6%, 22

votes

22 votes - 6% of all votes

21 vote - 6% of all votes

The doll factory

6%, 20

votes

20 votes - 6% of all votes

The OMAC Agenda

5%, 18

votes

18 votes - 5% of all votes

Her worst version

5%, 18

votes

18 votes - 5% of all votes

The Witching Hour

4%, 16

votes

16 votes - 4% of all votes

The Iron Valkryes

4%, 16

votes

16 votes - 4% of all votes

Daughter of the night

4%, 16

votes

16 votes - 4% of all votes

Glory Hole (messy)

4%, 14

votes

14 votes - 4% of all votes

13 votes - 4% of all votes

The last man on Earth

4%, 13

votes

13 votes - 4% of all votes

Regime training

3%, 12

votes

12 votes - 3% of all votes

12 votes - 3% of all votes

The trench plague

3%, 11

votes

11 votes - 3% of all votes

11 votes - 3% of all votes

The Queen of Blades' new toy

3%, 10

votes

10 votes - 3% of all votes

The servant of Slaanesh

3%, 10

votes

10 votes - 3% of all votes

10 votes - 3% of all votes

Toys in the attic

3%, 10

votes

10 votes - 3% of all votes

Glory Hole (clean)

3%, 9

votes

9 votes - 3% of all votes

7 votes - 2% of all votes

The Triumph of the Mind Maidens

2%, 6

votes

6 votes - 2% of all votes

6 votes - 2% of all votes
Total Votes: 356
Voters: 120
December 31, 2019
-
January 5, 2020
Voting is closed